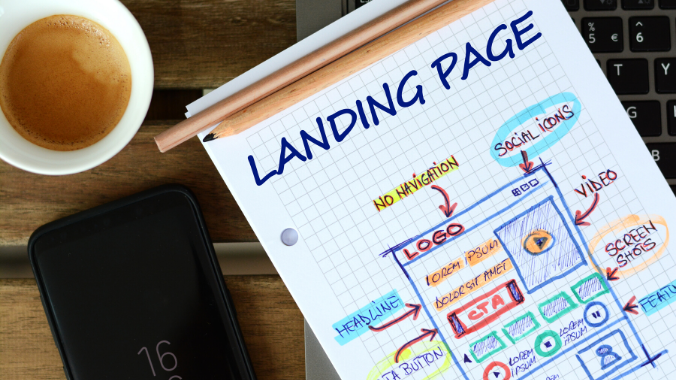 Creating great Landing Pages that Convert
What is a landing page?
Before we delve into creating great landing pages, first you need to understand what a landing page is. In digital marketing, a landing page is a standalone web page that allows you to capture a visitors' information through a lead capture form. You create landing pages for specific marketing or advertising campaigns. It is where a visitor "lands" after they click on a link in an email, or ads from Google, Facebook, Instagram, Twitter, or LinkedIn, for example.
We design landing pages with a single focus or goal, we call this goal 'a call to action' (CTA). Therefore, a landing page differs to your standard web pages, which typically have many goals and encourage your visitors to engage with other areas of your website.
Here's where landing pages might fit into your marketing funnel:
As you can see, the landing page exists after potential leads at the top of the funnel click a link in an ad, email, or anywhere else on the web. It then leads these visitors to a conversion (like a purchase, sign up, or registration).
Creating landing pages allows you to target your audience, offer them something of value, and convert a higher percentage of your visitors into leads, while also capturing information about who they are and what they have converted on.
Landing Page Content Checklist
A landing page is super focused. Our checklist will help aid you to understand all the elements that you need to put on the landing page – including the copy, images, and form.
Create an enticing Headline
Your headline is just like any other headline — it is used to entice people to do something. Make sure that your copy uses action-oriented words that communicate the value of the offer behind the landing page. For example, compare "Free Checklist: Your Go-To Guide for Optimising Landing Pages" to "Landing Page Checklist." The first is much more enticing.
Make sure the headline matches your source copy.
You need to make sure that your Top of the Funnel copy matches the offer on your landing page. Keep the language consistent and use similar language in your headline that you have used on your CTA. The referring source sets an expectation for your visitors on what they will expect to see on your landing page — don't disappoint your potential leads.
Write a sub-header that concisely describes the benefit of the offer.
A sub-header is a more practical extension of your headline. Your headline should be flashy yet indicative of what people will get by filling out the form. Your sub-header needs to be very clear on what the benefit is of the offer. What are people actually getting? So if your headline is "Free Checklist: Your Go-To Guide for Optimising Landing Pages", then your sub-header would say something like "Learn all the elements for creating a great landing page that gets you more leads and conversions."
Write body copy that's readable, easy and interesting
The actual copy of your landing page should not reiterate your headline or sub-header. It should however provide more information on the offer. People shouldn't have to read this part of your landing page to know what your offer is about — the headline and sub-header should accomplish that. Make sure it's informative and enticing.
Top tips: use bullet points to help with readability and keep your paragraphs to only a few sentences.
Optimize the Landing Page for SEO
You need to optimise the landing page for search engines and make sure that the page title, URL, Image alt text and meta description all have keywords in them — not necessarily to get you ranked in search engines, but to get people to click on your listing if they find you there.
Include compelling imagery
Use imagery that shows what you are offering. The best landing page images are ones that tell you what lies behind the landing page. So if people will get an ebook on Landing Pages, your image should be a top quality visual representation of that ebook on Landing Pages.
Ensure your lead-capture form is the proper length.
Depending on your offer, only collect the information that you need from your potential leads. For example, if you are just collecting emails for them to download an ebook, only include the email field.
Customize your submit button.
Your button should have action-oriented language, don't use the default Submit button text. For example, on a landing page for an ebook, you could change that button copy to, "Get Your Free Ebook Now." Much better than the generic "Submit."
Remove the top navigation menu bar.
Don't clutter your landing page with your website's top navigation menu bar. This helps to improve your conversions as there is nothing there to tempt your visitors off the landing page.
Make your page layout responsive to mobile devices.
As with the other parts of your website, make sure your landing page is also responsive on mobile devices. Your CMS or website software should already have this capability, but it does not hurt to double check that it's working before you hit publish.